Best Recruitment Agencies in Mumbai, India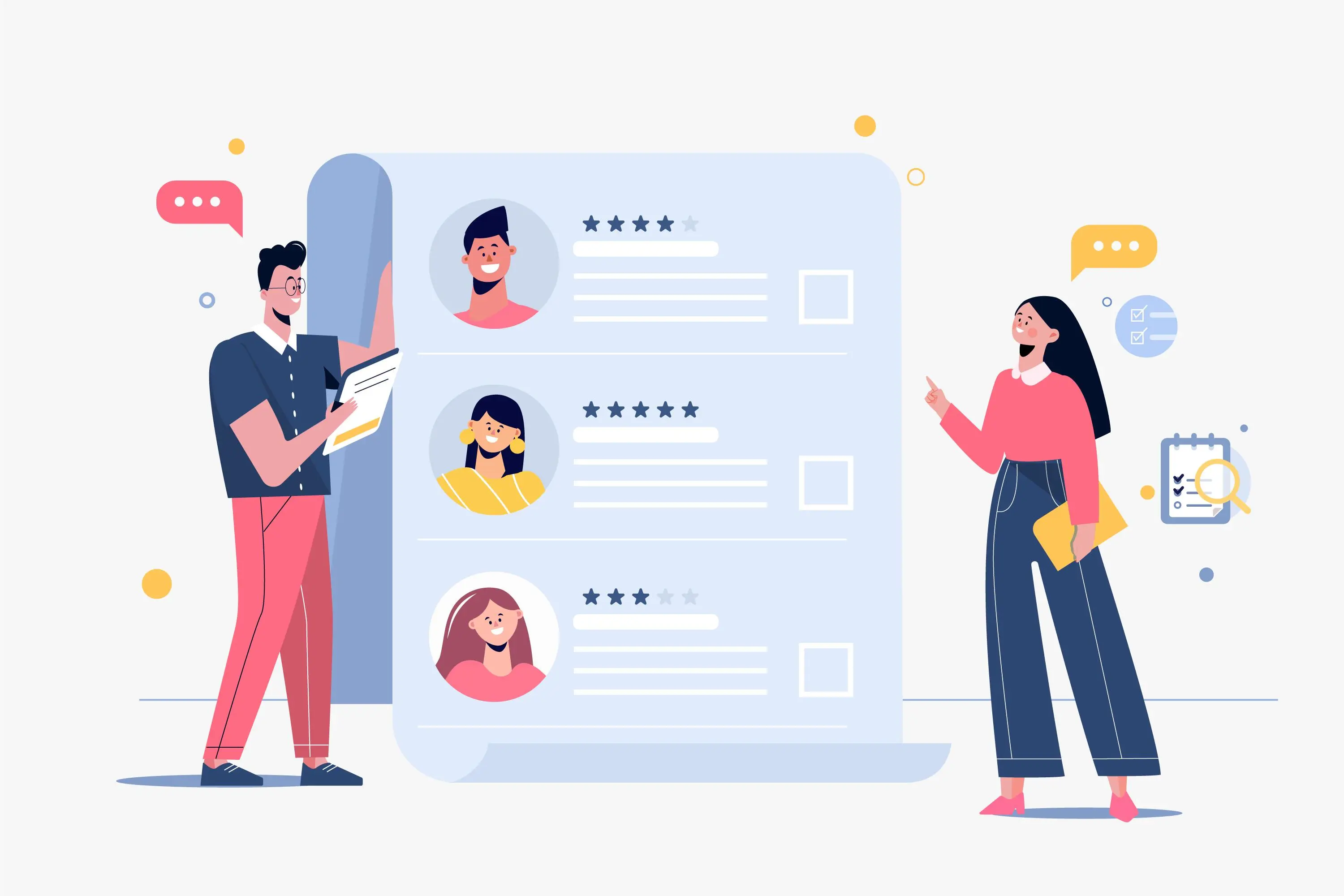 Efficient Hiring with Placement Consultants in Mumbai
Recruitment has become very challenging and Time-consuming.
Business owners definitely need someone expert, experienced, and have a huge database with the right search.
We just do not get our client the right resources but also guide on hiring requirements in terms of Position level, experience and market rate.
We provide candidates PAN India for the Middle and Senior levels.
We are one of the top recruitment firms in Mumbai and the preferred partner for leading multinationals in India. Our strong point is - we are one of the best placement agencies in Mumbai who recruit across different industry segments for some of the leading business houses in Mumbai, India.
Being one of the top hr consultants in Mumbai, our core team of industry professionals has an excellent record of successfully meeting all the recruiting needs of various sectors. The good thing about working with an recruitment firms in mumbai is that we are fully adept at handling all the aspects of the employment process right from sourcing to shortlisting and interview.
As one of the best recruitment consultants in Mumbai, we carefully match all the candidate profiles (talent) to make sure only the right candidates are chosen and the aspirations of organization perfectly match with those of the candidates.
Advantages of Hiring Placement Agencies in Mumbai
For an organization or a business to work efficiently, recruiting the right candidate for the right position is essential. However, the in-house recruitment process can be hefty and hinder other operations of the business. It can increase the overhead costs of hiring a new in-house team for the procedure. As hiring the right candidate is vital out of all the potential shortlisted applicants, it is also significant to choose the right approach for recruitment.
Hiring recruitment agencies in Mumbai for outsourcing & onboarding talented candidates provide the following advantages:
Less overhead cost
Access to a pool of potential candidates
Escalates the hiring process
Aids with Industry expertise
Consultation & strategic planning
Follow up with essential laws & norms
Promotes overall growth & development of the business
Our Recruitment Services For Diverse Sectors
We, at New Horizon, believe in making the hiring process easier & more straightforward. Leveraging our years of experience in the field and expansive access to candidates holding expertise in a number of sectors, we provide our services without confining our area of operation to a specific sector, field or industry. As leading recruitment firms in Mumbai, we cover a broad spectrum of sectors, making jobs accessible for deserving candidates and bridging the gap between business organizations and suitable candidates. Along with offering several services that complement the recruitment process and make it more smooth & easy; our recruitment services for diverse sectors cover
Business & Organization
Hospitality & Management
Information Technology
Finance & Banking
Accounts & Audit
Health Care & Essentials
Legal & Statutory
Marketing, Media & Communications
Real Estate, BPOs, and every other sector that requires human resources for smooth operations
From entry-level jobs to a vacancy that seeks years of experience, at New Horizon, we extensively cater to every job requirement of the businesses.
How We Recruit The Best Candidates?
After onboarding the client for outsourcing the recruitment service, we start with the process by leveraging our skills and experience in the field. We look out for exceptionally brilliant candidates & shortlist the potential ones for further process. Typically turnaround time is 24-48 hours; we aim to make the process faster & less time-consuming.
The steps of recruiting the best candidates include:
Profiling for the vacant positions
Searching the potential candidates
Telephonic interviews
In-person interviews
Offer
Joining
Why Choose New Horizon?
With 20 years of experience in the field, we stand proudly among the top placement consultants in Mumbai. Climbing the zenith of success with a presence in more than 25 industries, we offer an array of services, including recruitment, organizational structuring, HR Policies, compensation & benefits plan, performance management, payroll computation, C-level recruitment, international recruitment, etc. As one of the top recruitment firms in Mumbai, we aim toward perfection and benefit your business by incorporating:
Strategic Human Resource Inputs that promote smooth operation
Consultation, suggestions, and expert opinions for your business
Cost-effective system implementation
Timely Delivery
Access to expansive talent & number of potential candidates
Very few Human Resource consulting agencies serve a plethora of services that aim to benefit the business in all aspects. We take pride in being one of the most promising recruitment consultants in Mumbai by serving the industry with its Human Resource needs. Bridging the gap between excellent candidates & top businesses, we strive hard to make employment opportunities accessible. With Consultation for HR systems, processes & people, we, at New Horizon, aim to add more value to our client's businesses by serving with tailor-made innovative HR solutions PAN India.
We undertake strategic recruitment reviews and workforce planning.
We offer programs for talent acquisition in addition to data confidentiality.
We diligently build as well as maintain talent pools.
As an added value service, we offer Graphology for Executive Search.
Interviewing skills training & coaching targeted towards hiring managers.
Recruitment administration as well as career & succession management.
Updated database of qualified professionals.
Customized solution for Placements.
Work Process
Our process consists of initial meeting with client to understand the requirements of his business. The next step involves searching of suitable candidates followed by follow up with the company as well as candidates to get their feedback.
Allow us to Recruit the best team for your organization! Drop your requirements by filling our Enquiry Form!
FAQ's ABOUT RECRUITMENT CONSULTANTS IN MUMBAI, INDIA
Taking services from placement consultants in Mumbai helps the business in numerous ways, like -
Extended reach and exposure to a wider network
Best & highly qualified candidates
Reduction in overhead costs
Faster turnaround time
Industry expertise
Training & orientation sessions
Makes the screening & interview process smoother
Recruitment consultants in Mumbai offer services like finding, attracting, & onboarding new talent for their clients. Apart from that, they are responsible for advising the clients on picking the right & best candidate suitable for the job out of the potential candidates.
To get a job from a recruitment firm, it is important to search for the best recruitment agencies in India. The process of finding a job after finding the right recruitment firm is,
Create a resume & portfolio with all the latest work experience
Narrow down jobs & positions you are interested in applying
Find out the companies & organizations you are interested
Figure out the best after weighing the pros & cons
Coordinate with the recruitment firm and apply
Learn about the company from the recruitment firm
Await for the call, prepare for an interview
Negotiate the terms, if any
Coordinate with the recruiter about the further process, accept the letter & join.
When looking for a good job through placement agencies in Mumbai, the time taken varies depending on various factors such as industry, job market, and the specific requirement of the job seeker. Placement Consultants in Mumbai generally take a few weeks to a few months to find the best job for the job seeker. However, it is notable that recruitment agencies have access to a vast pool of job opportunities. Hence, they significantly reduce the job search time by quickly matching job seekers' skills with suitable job openings. Similarly, to find a job, the job seeker's level of experience and skill set plays an essential role, along with their flexibility in terms of location and compensation.
New-Horizon is one of the leading recruitment agencies in Mumbai, with 20 years of experience in the recruitment field. Choosing New-Horizon as your recruitment consultants in Mumbai can benefit you widely; their experienced team of recruiters deeply understands the job market and industry trends. Also, they offer various services, including recruitment, payroll computation, C-level recruitment, international recruitment, and many more. They work closely with the clients to understand their unique requirements and serve with tailor-made innovative HR solutions. With a solid commitment to quality and excellence, New Horizon has established a reputation for delivering outstanding recruitment services to clients and candidates.